Peoplestown, Ga – A night of chaos erupted in South Atlanta when a routine traffic stop took a turn for the dangerous and bizarre. In the early hours of January 28th, 2023, an officer was just finishing a stop for a broken tail light when he was surprised to find his car being stolen by an unrelated man. According to bodycam footage, the officer could be heard yelling, "Yo, back up! Get outta the car!!!" as the suspect quickly pulled away, heading toward the highway.
After radioing in the call, police tracked from their helicopter. The stolen cruiser, lights blazing as it rapidly sped East on Langford Parkway onto the I-85 Connector, traveled all the way from Greenbrier in Southwest Atlanta to Peoplestown, several miles away. The alleged thief was 29-year-old Atlanta resident Mickal Parker—a Black man.
The chase ended with the Parker crashing the police car in dramatic fashion at a rail crossing. Caught up at the intersection between McDonough and Hank Aaron Blvd, the car jumped the track—flipped over— and lay on its side as police arrived on the scene ready to make an arrest.
However, as they were assessing the accident, surrounding a rather dazed Parker, a Norfolk Southern freight train came toward the level crossing. Gates down, lights flashing, and the train barreling down on them, the police acted fast. They broke the window of the stuck car and rescued Mickal Parker just seconds before the lead engine made contact—smashing the car to smithereens. Parker only sustained minor injuries from the car flipping over. "We just save a life tonight," a dispatcher can be overheard saying at the conclusion of the incident.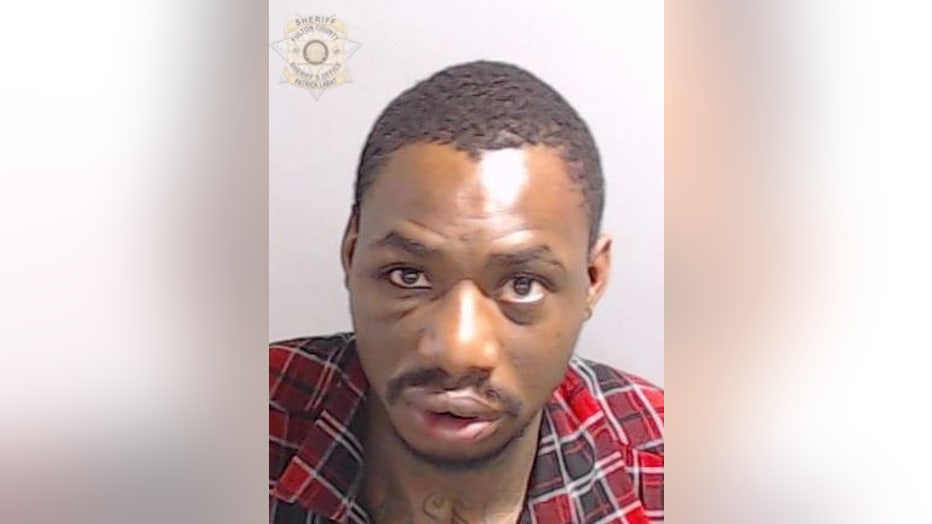 Parker was charged with several felonies, including theft by taking, fleeing and eluding, reckless driving, obstruction of justice, and damage to city property. A few days later, in Fulton County Court, the judge only issued Parker an $18,000 bond.
2022 and 2023, so far, have seen a large rise in vehicle thefts across major cities. Many of the auto thefts have been Kia or Hyundai, as a viral Tiktok challenge teaches would-be criminals how to commit a successful caper. Statistics show Blacks are overrepresented in auto thefts by 217% nationally. Blacks have also engaged in train robberies, with mobs looting shipping container trains leaving LA ports on several occasions during 2021-22. Conservative media ignored the racial aspect, instead focusing on "Covid mandates." Liberals, on the other hand, have reframed reckless driving incidents in the opposite direction, claiming that Black people are disproportionately likely to die in car crashes, never mind who is at fault.
The US Department of Transportation, under the leadership of the open homosexual Pete Buttigieg, has prioritized diversity initiatives and making transport in America more equitable. On day one of Biden's term, Executive Order 13,988 mandated department secretaries review their policies to better fight discrimination based on 'gender and sexual orientation.' Policies would be evaluated with the help of Jewish Attorney General Merrick Garland.
In April 2022, DOT published its Equity Action Plan. Whilst some goals like rural broadband or sidewalk repairs to help the disabled were racially neutral or could benefit Whites tangentially, most of the plan was directed at non-Whites. DOT wants to increase federal contract dollars going to Black or Minority Business Enterprises.
In honor of "Black History Month," Secretary Buttigieg discussed transportation equity with Forbes this week:
On the brighter side, train-related collisions are significantly down. Federal Railroad Administration data shows that in 1981, there were 9,461 collisions at crossings. In 2021, that number was only 2,146. Fatalities and injuries are down as well. However, Georgia has the third most collisions in the country, behind Texas and California. This case will be marked as collision-related to trespass or going onto the tracks illegally. The state of Georgia ranks 9th in the country for trespass-related casualties.
Antifa, particularly in the Pacific Northwest, has sabotaged rail infrastructure on multiple occasions, whilst left-wing extremists have publicly shared material explaining how to derail trains. In one such example, citizen journalist and National Justice Party central committee member, Eric Striker, reported on two White anarchists tied to the anti-White 'Indigenous' movement in 2020. "Ellen Brennan Reiche and Samantha Frances Brooks were caught red-handed placing devices intended to jam train signals on the BNSF tracks outside of Bellingham, Washington," Striker wrote. At the time, federal prosecutors went easy on Antifa.
After a January riot carried out by Atlanta-based 'Treehouse Antifa', however, suggests the left-wing extremist group is no longer being treated with kid gloves. Several rioters have been charged with domestic terrorism for attacks on city infrastructure and the police. There is no known link between Mickal Parker and the violent January demonstration, although police cannot establish a motive at this time for his alleged crimes.
Railway safety is important. If any of our readers ever get stuck at a level crossing, get out of your vehicle. If you are in trouble or spot someone else in danger or malfunctioning rail equipment, it's important to speak up and report it. Find the blue and white Emergency Notification System sign posted on the upright below the crossbar and dial the phone number. Provide the operator with the crossing number to alert crews to fix the problem. Don't proceed if the lights are blinking, even if the crossing appears clear. And if you are at a gravel road crossing, stay at least 15 feet back to avoid flying sediment damaging your windshield.
Have a story? Please forward any tips or leads to the editors at [email protected]