<!Top Left here>





Darkmode/Lightmode
Increase Font Size
Decrease Font Size
Switch to desktop version <!Main Headline>







Interracial Murder Reaching
Record Highs
But Courts Keep Failing
To Convict


<!Left Column>
Exclusives:


Extremist cybersecurity expert informs on J6 dissidents to Antifa and the FBI...
Middle school art teacher exposed as militant Antifa ringleader in upstate New York...
Antifa 'researcher' unmasked as Central Pacific ADL Regional Coordinator...
---
Support Our Work:



Subscribe to the Justice Report on Odysee...

You can also now send Bitcoin as well...
---
Hot Stuff:


Holocaust Claims: Hans Frank...
Daily Rake: I hate the E-Right part 16...
---
Podcasts:


The Daily Shoah...
The Third Rail...
By the Numbers...
The White-Papers Podcast...
---
European News:


AfD surges in the polls due to anti-migrant sentiment...
Meanwhile the German government cracks down on yet another far right wing group...
The German government has been accused of manipulating data to suggest rise in 'right-wing attacks on refugee homes'...
A Nius investigative report classed just one of the 80 reported cases cited by Germany's interior ministry of right-wing attacks against inhabited refugee homes as genuine...
---
Global News:


More than a third of Nagorno-Karabakh's ethnic Armenians flee, says Yerevan...
Armenia says 42,500 people have arrived, fearing their rights and security will not be protected in Azerbaijan...
North Korea deports Black US soldier who crossed from South Korea two months ago...
Already back in US custody...
Iran successfully launches Nour-3 satellite into orbit...
---
Palestinian Affairs:


Israel enters US Visa waiver program...
Iran slams Israeli PM Netanyahu's nuclear threat, vows to respond resolutely...
Over half of US citizens oppose Biden's 'megadeal' with Saudi Arabia...
In a desperate push to clinch Saudi-Israel normalization and fend off Russian and Chinese influence in West Asia, the White House is considering a broad defense pact that would commit US troops to defend the kingdom in case of an attack...
Syrian boxer withdraws from Hangzhou Asian Games over Israeli referee...
---
War On Whites:


94% of 323,094 new jobs among S&P 100 went to non-Whites in year after BLM protests...
---
Great Replacement:


Elderly denied milk in porridge after 'money runs out' while migrants get tens of millions for housing in Sweden...
As funds run out at the end of the month in Sweden's nursing homes, authorities find enough cash to put up new arrivals in hotels...
Poles flock back to Poland...
Since 2016, the number of Poles in Ireland has decreased from 122,000 to 93,000...
In the UK, from 2016 to 2022, their number fell from 911,000 to 691,000...
---
Jewish Issues:


Menendez's legal woes could reshape direction of Democratic foreign policy...
Menendez's long-term successor as ranking Democrat atop the Senate Foreign Relations Committee may not be as supportive of Israel...
Ohio high school football coach resigns after players use 'Nazi' in play calls...
Daniel Lurie, Jewish Levi Strauss heir and philanthropist, is running for San Francisco mayor...
More than 120 Jewish activists call on advertisers and app stores to drop Twitter/X...
German Far Right extremists set up fake Jewish organizations to raise funds...
---
Political Theater:


New York Judge rules Trump committed fraud by inflating the value of his assets...
Stripping Trump of control over some of his signature New York properties...
---
Black Crime:


'Anti-Racist' Tech CEO 'beaten to death by Black man who was released early from prison'...
Mass looting breaks out in Philadelphia after Judge dismisses charges against cop who shot man armed with knife...
---
Antelope Hill: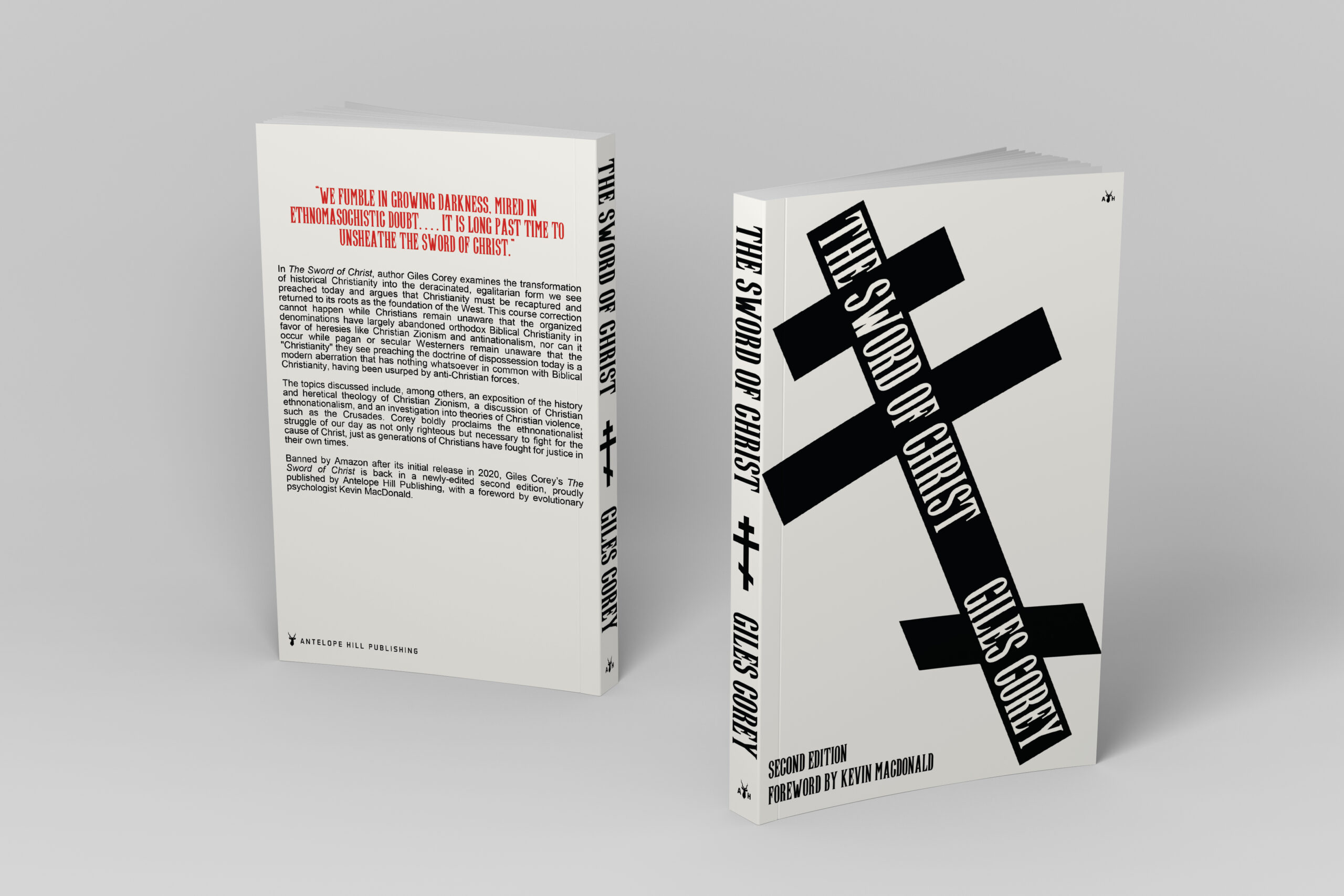 The Sword of Christ by Giles Corey...
---
National Justice Party:



Michael Peinovich: The Possibility of White Nationalism...



Warren Balogh: Our Worldview...



Tony Hovater: What's the Buy-in...



Interviews from the 12th Party Meeting Of The National Justice Party...

Sign up to become a supporter of the NJP party...
---