Salesforce is the largest provider of Customer Relationship Management systems (CRMs) in the world. Chances are if you work in sales, you use one of their products. Salesforce's co-CEO is Marc Benioff. Benioff—who is Jewish—serves on the World Economic Forum's (WEF) Board of Trustees and "…also serves as the inaugural Chair of WEF's Forum Center for the Fourth Industrial Revolution in San Francisco."
Since 2018, Marc, along with his wife, Lynne, have acted as co-Chairs of TIME magazine. According to Silicon Review, Benioff purchased TIME for $190 million in cash from Meredith Corporation. However, he chooses to remain "uninvolved" in day-to-day operations, allowing Jewish Editor-in-Chief Edward Felsenthal a free hand to direct the famous publication.
Despite Benioff's stated desire to make technological change beneficial for humanity, examining some of his initiatives show otherwise. In 2016, working with his "network" of C-suite friends and colleagues across Corporate America, Benioff lobbied to defeat various "religious freedom bills" intended to protect conscientious objectors to LGBT lifestyles. Benioff told TIME that laws on transgender bathrooms, for instance, were creating "an anti-business environment."
But like any multinational company, Salesforce is more than the opinions of its leader. Salesforce's Board of Directors includes other leading lights such as Former VP of the European Commission Neelie Kroes, Fmr. Ambassador to Japan John Roos and Jewish CEO of YouTube Susan Wojcicki. Notable advisory board members include former Tiktok CEO and Disney CSO Kevin Mayer, Fmr. Chairman & CEO of Dow Chemical Andrew Liveris, and Deutsche Bank Chairman Alexander Wynaendts.
However, much of the evidence comes directly from a white paper drafted by researchers from Markkula Center for Applied Ethics at Santa Clara University, published by the WEF in September of 2022 called Responsible Use of Technology: The Salesforce Case Study. [Page numbers will be provided where applicable.]
In 2018, a group of left-wing activists working for Salesforce demanded that Salesforce cancel its contract with Customs and Border Patrol. In an open letter, the group said: "Given the inhumane separation of children from their parents currently taking place at the border. We believe that our core value of equality is at stake and that Salesforce should reexamine our contractual relationship with CBP and speak out against its practices." (p. 6)
In response, Benioff didn't just cancel the contract, but he took the row as a chance to promote "ethics" in every aspect of the firm's product line. Thus, the Office of Ethical and Humane Use (OEHU) was born. OEHU working with the preexisting Office of Equality—which is Salesforce's diversity department—would focus on issues such as data privacy, accessibility, inclusion, and recoding software.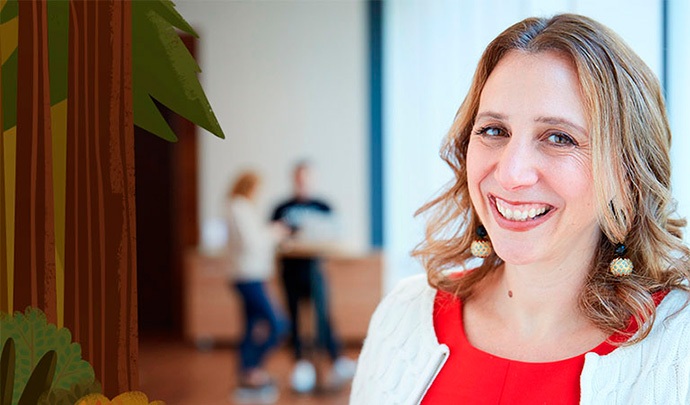 To lead the Office as Chief Ethical and Humane Use Officer, the company tapped Paula Goldman. Goldman—who is Jewish—previously led the Tech and Society Solutions Lab at Omidyar Network. The Network is a philanthropic investment company that fosters "a culture of repair" and "of belonging" to address the history of "systemic racism." According to its website, partners of Omidyar include The Atlantic Council, Carnegie Endowment for International Peace, Chatham House, Institute for Strategic Dialogue, Markulla Center for Applied Ethics, Soros/State Dept. backed New America Foundation, Trust and Safety Professional Association, United Nations, World Bank, and the World Economic Forum. Once again, Markulla and WEF researchers created the Salesforce case-study.
According to Scott Howard's The Open Society Playbook, Omidyar Network bankrolled the Anti-Defamation League's Center for Technology & Society (CTS), with 250 thousand dollars in seed capital along with an additional 1.5 million for operations. (p. 79) They are also active in Ukraine working with the Open Society Foundation to create a more transparent program to help develop natural resources. The program called Open Access brings together government, business, and civil society to increase public participation and 'management efficiency' in the extraction industry and environmental health. (pp. 73-74)
The Trust and Safety Professional Association (TSPA) is a non-profit professional association representing the interests of content moderators, i.e., those who: "…create and enforce policies that determine what kinds of content and behaviors are acceptable online." They navigate:
…problems like election interference, extremism, and harassment; and tackling spam, account takeovers, and fraud. These issues are front and center during these fraught times, as trust and safety professionals aim to combat a myriad of online abuse related to systemic racism, police violence, and COVID-19 — such as hate speech, [and] misinformation…
TSPA was founded in 2018 by Jewish Santa Clara Law professor Eric Goldman. They host an annual technology conference called TrustCon. Goldman cofounded TSPA with Clara Tsao. Tsao previously served as "Senior Advisor for Emerging Technology at the Department of Homeland Security and as Chief Technology Officer of the US Government's interagency Countering Violent Extremism and Countering Foreign Influence Task Force," under the Trump administration. Santa Clara just so happens to host the Markulla Center which developed the Salesforce case study on Ethical Use which is supported by the Omidyar Network. Sponsors of TSPA include Discord, Eventbrite, Google, Meta, and Soros-backed Wikimedia Foundation; and while Salesforce doesn't directly fund TSPA, YouTube and TikTok do. As a reminder, both companies have representation in Salesforce senior leadership.
TSPA praises YouTube for increasing content moderation using AI. They celebrate the removal of The Daily Stormer by Cloudflare (another contributor). In fact, they complained it took too long for them to act. When Russian authorities accused Twitter of promoting drug use, suicide, and child sexual abuse material and they failed to act, Russia slowed down access to Twitter. Yet, TSPA called this "throttling" and "a new form of censorship" intended to target dissidents and opposition figures, which should encourage "debate" on the role of private platforms complying with take-down requests from authoritarian regimes.
Returning to Paula Goldman, after her appointment as Chief Ethical and Humane Use Officer of Salesforce, (CEHUO) she implemented various initiatives to make Salesforce products more inclusive. One initiative, in partnership with the Office of Equality along with several employee ERGs (more on those later), helped identify the usage of "non-inclusive" language to stamp it out. Phrases like "black-out" or "master" were replaced in all external and internal communication because they allegedly offended the sensibilities of Black employees. A team called Ethicspoint now handles complaints from employees about the use of non-inclusive and gendered language within Salesforce's software and educational programs like Trailhead. (p. 19) Trailhead is a popular onboarding and tech educational program which uses PricewaterhouseCoopers' anti-bias software called Blind Spots to teach new employees and the public about "implicit bias," and its effects on technology.
A similar team in charge of Ethical and Inclusive Products created a "boot camp" for new hires. In the first two years, 4900 employees participated in the ethics program. Inwardly, Salesforce hosts various employee workshops, and listening sessions and publishes a newsletter related to ethical use. Outwardly Salesforce management has been proactive in promoting "inclusive AI design." (p. 15)
While Salesforce prioritizes internal advocacy for inclusive design, they also engage in outside advocacy:
Paula Goldman was appointed in 2022 to the National AI Advisory Committee, while Rachel Gillum, Head of Ethical Use Policy, serves as a commissioner on the U.S. Chamber of Commerce AI Commission on Competitiveness, Inclusion and Innovation, and Kathy Baxter, Principal Architect of Ethical AI, advises the Singaporean government on their Advisory Council on the ethical use of AI and data…On proposals like the drafted European Union AI Act, the National Institute for Standards and Technology (NIST) standard for identifying and managing bias in AI, and various AI ethics and governance frameworks, Salesforce regularly responds to requests for comment…Similarly, Salesforce leaders actively attend industry and academic events and lend their support to projects like the United Nations Human Rights Office's B-Tech Project.

p. 21
For her part, Kathy Baxter told her profiler that she has found "many like-minded souls" throughout the company just "as passionate about equality, inclusion, and diversity" as she is.
Salesforce's approach to ethics is not merely recoding politically incorrect wording, it's comprehensive—grounded in post-war human rights language developed by the United Nations. Salesforce ethics teams use frameworks like "The International Covenant on Civil and Political Rights, UN Guiding Principles for Business and Human Rights, and International Covenant on Economic, Social and Cultural Rights…to guide their work." (p. 8)
One of the UN initiatives is called the B-Tech Project. The United Nations Human Rights Office describes the Project as a vehicle to encourage tech companies to incorporate human rights into their business practices. The project centers on UN Guiding Principles (UNGP) as a fair and neutral way of policy-making.
According to B-Tech's scoping document, the Project began in response to:
credible reports, including at times from tech companies themselves, [which] reveal cases of large-scale infringements on privacy, exacerbating ethnic conflict and dissemination of hate speech, undermining democratic processes, enhancing state surveillance, putting children at risk, facilitating live-streaming of abhorrent acts like the Christchurch terrorist attack, online violence against women and LGBTI persons and others, and "algorithmic discrimination" (whether in the job market, the criminal justice system or in access to public services).

p. 2
B-Tech engages business, the Member States, academics, experts, and civil society as stakeholders to make recommendations for governance. Since its creation, B-Tech developed a new mechanism for carrying out its agenda called Community of Practice (CoP.) CoP hosts core sessions throughout the year so experts can engage large firms on how to better implement UNGP. In 2021 companies including Apple, Cisco, Cloudflare, Ericsson, Facebook, Google, HPE, Microsoft, Salesforce, Twitter, Verizon, and Vodafone participated. Several of those companies also sponsor Eric Goldman's TrustCon event. Policing speech online under the pretext of "protecting human rights" is being used to help implement the UN's "Sustainable Development Goals." New rules implemented by the European Council for "harmonizing" artificial intelligence law across the EU serve as a model. The reader will recall Salesforce assisted in creating those very rules.
So how does Salesforce implement human rights for its own human resources? In 2016, Salesforce unveiled "Cultivating Equality". In a series of workshops, management received "implicit bias training." CEO Marc Benioff also joined CEO Action for Diversity & Inclusion previously discussed here.
"As business leaders," Benioff wrote, "we have a responsibility to stand up to discrimination and make equality part of the fabric of our companies. We are better people, companies, and communities when we commit to equal pay, equal opportunity, equal education, and equal rights. Salesforce is proud to take the CEO Action for Diversity & Inclusion pledge." Part of equal pay involved salary adjustments to increase pay for women employees and for people of color. They spent $6 million in 2016-2017 on salary adjustments.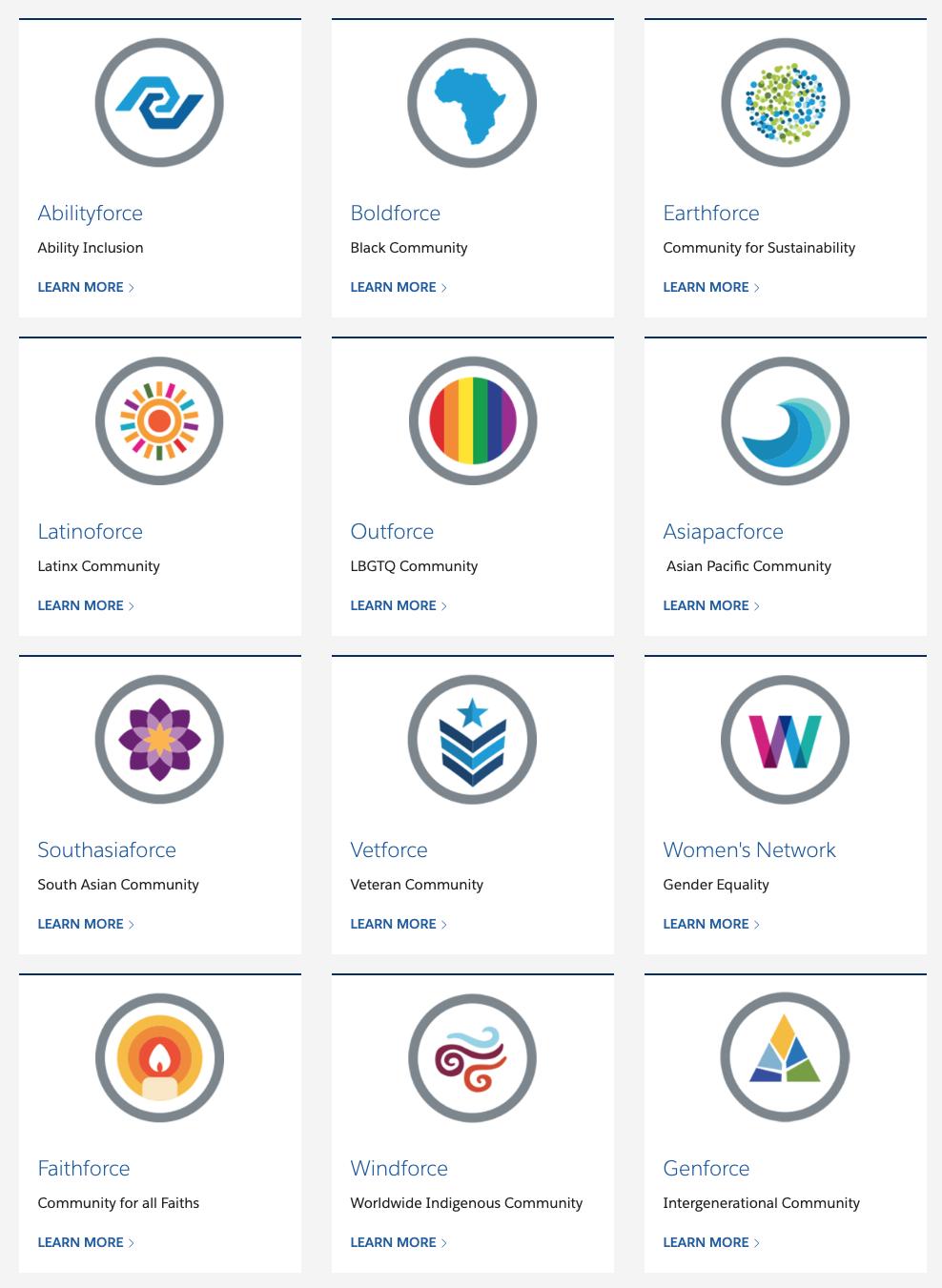 Earlier, we referenced Employee Resource Groups (ERGs) which are called "Ohana Groups" at Salesforce. Derived from the Hawai'ian term, Ohana refers to one's extended family, whether related by blood or not. In addition to "attracting a diverse workforce," their Action Statement describes the purpose of Ohana Groups as "…[providing] community for underrepresented groups and their allies, offer professional development and mentoring opportunities, and empower employees to be responsive equality leaders in their community." ERGs include BOLDforce, Outforce (LGBT), Salesforce Women's Network, Abilityforce, Earthforce, Latinoforce, Pacficforce, SouthAsiaforce, and Vetforce.
Earthforce is the green wing of the Ohana. They volunteer for environmental causes and 'sustainability' helping the company implement its "Net Zero by 2050" initiative to reduce carbon emissions.
BOLDforce for African Americans partners with: "Black Girls Code, Year Up, Code 2040, and Self e-STEM."
Year Up is a foundation and mentorship program intending to close the "opportunity divide" by offering job training programs, career coaching, and staffing. Less than 10% of students in Year Up's tuition-free program are White. Besides Salesforce, corporate partners include Amazon, Blackstone, JP Morgan, Paypal, Robinhood, and Twitter.
"Self e-STEM's vision is to create a sustainable supply of underrepresented minority women leaders who are recognized as a viable source of top talent and innovation in science, technology, engineering, and mathematics (STEM)." They also provide, "interactive, culturally responsive STEM literacy, leadership, and technical training to leverage STEM as a foundation for social and economic growth." To editorialize for a moment, at press time, Self e-STEM's website was poorly designed with numerous display problems and typographic errors. Anyway, partners include Adobe, Google, Hewlett Packard Foundation, Lyft, Visa, and Wells Fargo.
Whilst ERGs platform sundry grievance issues for nonwhites, the real power is behind Jewish causes. Salesforce assisted the ADL in streamlining their communication, donor engagement, and "hate incident" tracking programs. Previously, disorganized across 25 offices, now ADL can operate more efficiently and in a more centralized way. Salesforce created a case study about their success as a guide for other nonprofits:
ADL selected a combination of the Nonprofit Success Pack (NPSP), Marketing Cloud and Classy (an AppExchange solution) for its event management, campaigns, and online donations. With the ability to easily integrate with Salesforce, Classy automatically populates all of a donor's giving history, regardless of donor channels, onto NPSP… "NPSP and Marketing Cloud allow us to keep up with the increasingly sophisticated needs of our donors, allowing us to track their specific interests within the organization and tailor solicitations for maximum impact," remarks Carol Goldstein, Senior Director of Marketing.
As a result of streamlining, outreach is easier while duplication has gone down. Salesforce claims ADL has seen an appreciable increase in fundraising thanks to them.
Using NPSP and another program called Service Cloud, ADL created an automated "hate incident" reporting and tracking system. Since rolling out in 2017, ADL's internal stats show employees are "61% more effective" at managing hate incidents. Here's how it works:
The system captures information from individuals in communities who have experienced or witnessed a hate crime or incident and want it addressed. It then automates the creation of incoming case reports and routes information to staff. After a case review, the assigned case owner at ADL can determine the best course of action, coordinate with any internal resources or staff members, and provide an update to the person who first reported the incident, all through automation tools provided by Service Cloud. ADL is also able to import social media insights into the system via Social Studio, providing an all-encompassing view of relevant activity happening around the nation.

Data from the system is also used to build an incident H.E.A.T. (Hate, Extremism, Anti-Semitism, Terrorism) map for the entire country – the first of its kind, interactive and customizable map. "By being able to drill into reports of incidents across the U.S. at the state and local level, we can identify hot spots and trends and make sure we are providing the necessary resources." George Selim, Senior Vice President of Programs says.
Salesforce also has three offices in Israel including Nazareth, Petah Tikvah, and Tel Aviv.
Salesforce Israel has become one of the most strategic hubs for Salesforce, leading digital transformation across companies of all sizes, and driving next-generation technology investments and acquisitions. Salesforce has incredible talent in Israel. We transform businesses, careers, and our world guided by our values – trust, customer success, innovation, and equality.
To many tech companies, Israel is a "strategic hub" which will help "transform" the world. Yet despite the language of "equality" and "human rights," there are no internal memos telling senior management to exit that market. Mere words like "black-out" are so offensive they must go while contracts with Customs and Border Patrol are "unethical." Yet the numerous documented 'human rights' abuses aren't discussed. After the ADL lobbied the Portland District Attorney to frame an innocent man for murder after he protected a group of homeless men from a Black gang, Salesforce said nothing.
To conclude, I'd like to provide you with the words of a "fullstack developer at Datarama, a subsidiary of Salesforce," identified as May on the Israeli careers page. Here's why she likes the company so much:
First of all, I strongly identify with the company's values…We have many volunteer programs, such as the initiative of 'She Codes', a female community of developers in Israel that strives to integrate women into the high-tech industry…I feel like I'm part of something big. I am proud to be part of a company that influences so many customers around the world. I come to the office with a smile every morning, which is really the most important thing, and it gives me confidence to say that this is the right place for me.

Emphasis mine
At no time does she identify money as her motivating factor. As with so many other leftist institutions, the values are the promotion of liberal ideology and the power to force it on others. Salesforce is a prime example of this.
Under the banner of 'equality' and human rights, Marc Benioff and Salesforce mold the Black experience and refocus it toward corporate profits. Mike Peinovich said recently: "it's none of your business what [Blacks] share about [themselves], just as it's none of your business what narratives and stories we Whites tell about ourselves, including the Jews. They don't have any business in either of our stories." Whether it's internally through the implementation of UN language about "human dignity" or "fundamental rights" or through partnerships with anti-White groups like Black Girls Code, the Anti-Defamation League, The Omidyar Network, or The World Economic Forum, it's clear that under the guise of "ethical use" Salesforce is pushing an ideological agenda at odds with the vast majority of Americans.
Have a story? Please forward any tips or leads to the editors at [email protected]